Three phase power capacitor
More detail:

Wasvar Electronics three phase power capacitor(Cylindrical).pdf
Introduction
Power capacitors are capacitors used in power systems and electrical equipment. Any two metal conductors separated by an insulating medium constitute a capacitor. When the capacitor is used under AC voltage, its reactive power is usually used to express the capacity of the capacitor, and the unit is var or kvar.

Parallel capacitors. It is mainly used to compensate the reactive power of the inductive load of the power system to increase the power factor, improve the voltage quality and reduce the line loss.

Performance and Characteristic

1.Strong self-healing property, excellent self-healing performance, when the medium caused by over-voltage ocal breakdown can self-repair, restore the normal work.
2.Good safety performance: capacitor built-in overvoltage protection device, in case of fault or overload can automatically cut off the power supply, the product is safe and reliable, capacitor built-in discharge resistance capacitor cut off the power supply 2-3 minutes after the residual voltage is less than 75V.
3.All-dry structure: The capacitor core is impregnated with high vacuum silicone oil for heat setting and then filled with flame-retardant colloidal material to avoid oil pollution to the environment.
4.Long service life: adopting special composite electrode materials and reinforced absolute material design, the capacitor has low loss and the capacitance loss in operation is minimal.After 2 years of use in normal environment, the capacitance decrease is less than 2%
5.The capacitor adopts metal aluminum shell structure, the product dissipates heat quickly and is anti-corrosion and anti-oxidation, the product structure is compact, the volume is small, the installation is convenient, beautiful and generous.
Introduction of model number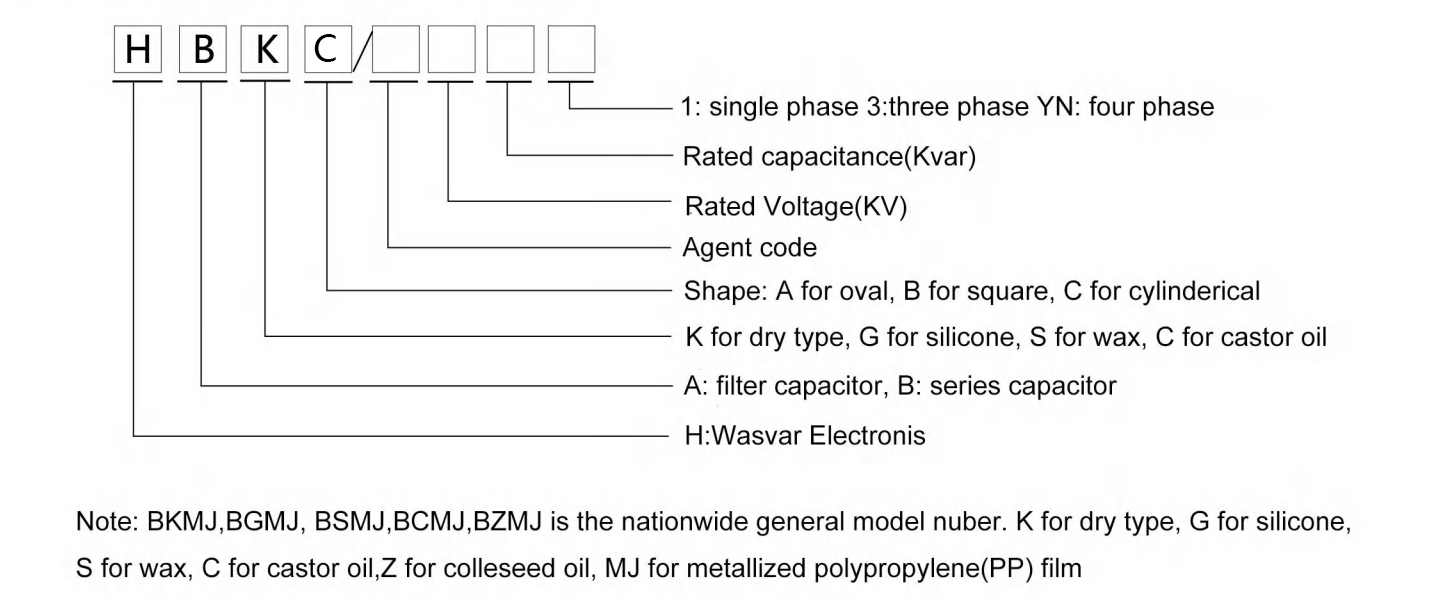 Specifications

Item
Model
Rated Voltage
(V)
Rated Capacitance
(KVAR)
Static Capacity
(uF)
Rated Current
(A)
Dimension
Diameter*Height(mm)
50Hz three phase power capacitor
BKMJ0.4-5-3
400
5
99.52
7.22
φ76*260-M12*16
BKMJ0.4-10-3
400
10
199.04
14.43
φ76*260-M12*16
BKMJ0.4-15-3
400
15
298.57
21.65
φ86*260-M12*16
BKMJ0.4-20-3
400
20
398.09
28.86
φ106*260-M12*16
BKMJ0.4-25-3
400
25
497.61
36.08
φ116*260-M12*16
BKMJ0.4-30-3
400
30
597.13
43.30
φ136*260-M12*16
BKMJ0.415-5-3
415
5
92.46
6.96
φ76*260-M12*16
BKMJ0.415-10-3
415
10
184.92
13.91
φ76*260-M12*16
BKMJ0.415-15-3
415
15
277.37
20.87
φ86*260-M12*16
BKMJ0.415-20-3
415
20
369.83
27.82
φ96*260-M12*16
BKMJ0.415-25-3
415
25
462.29
34.78
φ106*260-M12*16
BKMJ0.415-30-3
415
30
554.75
41.74
φ116*260-M12*16
BKMJ0.44-5-3
440
5
82.24
6.56
φ76*260-M12*16
BKMJ0.44-10-3
440
10
164.49
13.12
φ76*260-M12*16
BKMJ0.44-15-3
440
15
246.74
19.68
φ86*260-M12*16
BKMJ0.44-20-3
440
20
328.99
26.24
φ96*260-M12*16
BKMJ0.44-25-3
440
25
411.24
32.80
φ106*260-M12*16
BKMJ0.44-30-3
440
30
493.49
39.36
φ116*260-M12*16
BKMJ0.44-35-3
440
35
575.74
45.92
φ116*260-M12*16
BKMJ0.45-5-3
450
5
78.63
6.4
φ76*260-M12*16
BKMJ0.45-10-3
450
10
157.27
12.83
φ76*260-M12*16
BKMJ0.45-15-3
450
15
235.91
19.25
φ86*260-M12*16
BKMJ0.45-20-3
450
20
314.54
25.66
φ96*260-M12*16
BKMJ0.45-25-3
450
25
393.17
32.08
φ106*260-M12*16
BKMJ0.45-30-3
450
30
471.81
38.49
φ116*260-M12*16
BKMJ0.45-35-3
450
35
550.44
44.91
φ116*260-M12*16
BKMJ0.48-5-3
480
5
69.11
6.01
φ76*260-M12*16
BKMJ0.48-10-3
480
10
138.23
12.03
φ76*260-M12*16
BKMJ0.48-15-3
480
15
207.34
18.04
φ86*260-M12*16
BKMJ0.48-20-3
480
20
276.45
24.06
φ96*260-M12*16
BKMJ0.48-25-3
480
25
345.56
30.07
φ106*260-M12*16
BKMJ0.48-30-3
480
30
414.68
36.08
φ116*260-M12*16
BKMJ0.525-5-3
525
5
57.77
5.5
φ76*260-M12*16
BKMJ0.525-10-3
525
10
115.55
11
φ76*260-M12*16
BKMJ0.525-15-3
525
15
173.32
16.5
φ96*260-M12*16
BKMJ0.525-20-3
525
20
231.09
21.99
φ106*260-M12*16
BKMJ0.525-25-3
525
25
288.86
27.49
φ116*260-M12*16
BKMJ0.525-30-3
525
30
346.64
32.99
φ136*260-M12*16